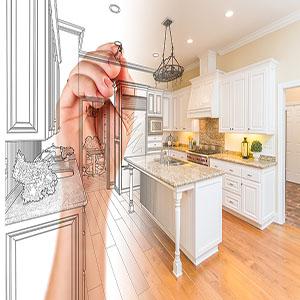 Kitchens are the hardest working room in the house, providing an essential function, as well as a natural gathering place. Whether you are chopping vegetables, or chatting with a glass of wine, a smart stylish kitchen always increases the enjoyment of your home.
All the activity that goes on in the kitchen can take its toll in wear and tear. To keep a space that is convenient and pleasurable to spend time in, here are some ideas for an overhaul, without the hassle of having a complete refit.
Revamp the units
Kitchen units can be given a new lease of life with a simple coat of paint. It needn't be hard work; modern chalk paints are very forgiving, and produce great results on most surfaces, even after a quick first coat. They are available in some beautiful colours too: duck egg green, soft smoky blues, pastel pinks, or neutral greys and off-white shades.
Another very easy way to spruce up tired units is to change the handles. Copper kitchen handles create a luxurious effect with little effort, especially after a fresh lick of paint.
Refresh the colour scheme
The colour of the walls has a significant effect on the overall ambience of the room. If your cabinets are a dark colour, add some light relief by painting the walls with off-white shades. If the overall look is too bland for you, you could add splashes of bright colour here and there on some shelving or other areas of woodwork.
Hang some prints
A few prints, or even a gallery wall, is a great way to inject some life and personality into your kitchen. Go for quirky designs that lift the mood and catch the eye, and experiment with bold colours that are complementary on the colour wheel, such as blue and orange, and red and green.