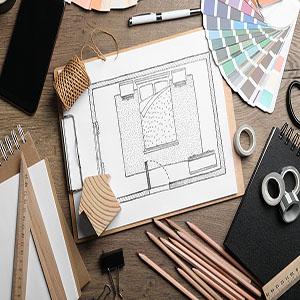 Your bedroom should be a luxurious sanctuary from the stresses of the outside world. It also needs to be a practical and comfortable space where you can rest and take care of your wellbeing. After all, we spend approximately one third of our lives in bed! Here's a few mistakes to avoid when designing your bedroom.
Buying a bed that doesn't fit the room. A king-size bed crammed into a small room will mean that walking around and accessing storage will be awkward and even hazardous. Tall bulky headboards also make a limited space feel even more crowded. On the other hand, a short bed in a large room can look unbalanced.
Being too 'matchy-matchy'. A room that is over-coordinated in its interior décor will have all the ambience of a mid-market hotel. Look for individual quirky details to give your room a unique flavour; simply some stylish door handles or hooks will add interest. You can layer up different colours and textures of fabric to create a more personalised feel.
Poor lighting. In a bedroom, it is important to have a range of different lighting levels to avoid over stimulation at night, but allow for carrying out tasks when necessary. A pendant light should be complemented with dimmable lamps and reading lights which are easily accessible from the bedside.
Too much clutter. While an overly minimalist room will be uninviting, an untidy and cluttered space will make it hard to find what you are looking for, and a nuisance to keep clean.
Vibrant colour schemes. This one is really a matter of personal taste, but most people find that muted, soft palettes are more conducive to a good night's rest! If you really prefer strong patterns and colours, try creating a feature wall with smoky greys or blues.
If you are looking for hexagon door handles, visit our website today.