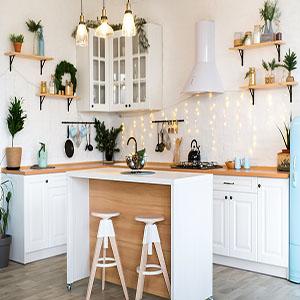 The kitchen is a hub for socialising, cooking, eating, and working, so it is important to strive for a design that finds the balance between function and beauty.
When looking at the latest trends for kitchen design and decor, it's also more important than ever to consider hygiene and how easily the kitchen can be cleaned. We have a look at a few of the trends set to take 2021 by storm.
Green cabinetry is gaining popularity
Forest-green cabinets are already trending, as the colour is not only neutral but plays well with warm and light tones. It signals a move where people are moving away from the 'safe' option of white or dark wood cabinets.
Forest-green works wonderfully with luxurious gold hardware, brass fixtures, and hammered copper drawer knobs.
High-end appliances will likely outshine budget models
With the amount of cooking and baking people have been doing during the lockdown, many people are investing in higher-end appliances, ditching their budget models for restaurant-style stoves and fridges.
Installing extra outlets may be a popular kitchen upgrade
As well as major kitchen appliances, there has been a growth in the use of air fryers and juicers, which has led to a need for additional power outlets in the kitchen. Extra storage space is also something that has become necessary for hiding away these appliances when not in use.
Larger sinks are trending
Noted for their versatility, larger sinks are increasingly taking the place of traditionally sized ones. Larger sinks allow for easier preparation of fresh foods and can handle multiple functions at once, as well as having more room to wash pots, pans, and appliances.
Open shelving may become a dated concept
Open shelving was once very popular, but with the enhanced hygiene considerations from the pandemic, they are seen as needing extra tidying and dusting, and a move away from this style and towards more hidden storage and making the best of the space inside traditional cabinets.
If you're looking for contemporary kitchen handles for your kitchen makeover, visit our online store today.