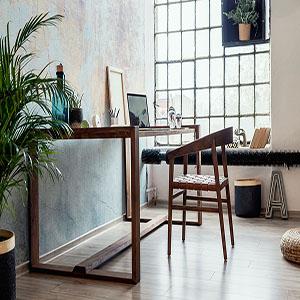 Whenever you embark on a home improvement project, the key to success is always planning and forethought. This way, you know you'll end up liking the finished result and you won't waste any money on big investments that you'll fall out of love with quickly.
Deciding on a style for the room you're working on is also a wise move, as it helps to channel your thoughts and keep you on track - and one of the most popular interior design styles to have emerged in recent years is, of course, the famed industrial aesthetic.
You're sure to have seen this in local restaurants and bars, but it's been slowly creeping into our homes, as well, and it's certainly not hard to see why. It's a chic and timeless style, and one that works well in both contemporary and more traditional properties - and it isn't all that difficult to achieve, even if you're not a professional interior designer.
An easy way to give a nod to the look is to expose a beautiful brick wall and then bring in some salvaged items to help complete the look and tie it all together. Industrial pipes will always work well and you can create a great sense of style simply by using Edison light bulbs in your lamps and removing the lampshades so the bulbs are on display.
Remember that the key to getting it right is to adopt a minimalist approach to your interiors. Less truly is more when you're aiming for an industrial look. Also make sure you use recycled and natural materials wherever possible, and stick to a neutral colour palette with lots of blacks, greys and whites to create layers in your living spaces.
Shape is also paramount when it comes to furniture, fittings and fixtures, and you should aim to avoid anything abstract or rounded curves, instead going for square shapes to help bring it all together.
Check out our range of brass bar handles in our online shop today.