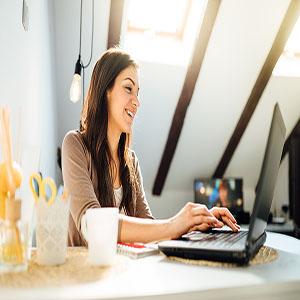 Many, if not most of us have spent more time at home over the last year than ever before, and our home offices are becoming increasingly important.
According to the Office For National Statistics, nearly half of the population (46 per cent) have worked from home at least one day a week, increasing the need for a comfortable, luxurious working environment.
With the help of some carefully curated luxury home accessories, here are some top design ideas for a better home office.
Set Up A Video Call Wall
The temptation with many home offices is to keep it blank and simple, which has its advantages in avoiding distractions but is far from an ideal working environment, and can really affect the aesthetic of the ever-frequent video call.
Instead, keep things simple, and set up an accent wall, with a unique calming design, and a shelf filled with decorations to help remind you that as much as it is an office, the "home" aspect is just as important.
Choose Furniture Wisely
Your chair, your desk and your lamp are the three most important parts of your home office, so be sure to make your choice carefully, and consider more than just practicality.
Look for a statement desk at just the right height for you to work comfortably, and pair it with a comfortable executive chair which fits your aesthetic just right.
An Artistic Touch
A striking statement piece of art is the easiest way to not only add luxury but inject your personality into your professional workspace.
Stick to a single colour theme that fits your room, but other than that choose your art based on what inspires you.