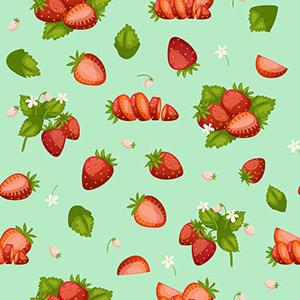 Nothing is quite as refreshing on a warm summer day than fresh fruit, and the rich natural pigments of colour seen in fruit are undeniably lush, so why not take inspiration from nature for your home decor?
Each fruit offers more than one colour we can incorporate into our interior design ideas. We can take our colour scheme cues from the colour combinations of a fruit's protective outer layer and the juicy flesh. Think of the pale green and whites of an apple, or the tan, gold, and green of the pineapple, which is always popular in home decor.
For those who are wanting to use natures own palette for their home decor plans, here are some ideas.
1. Wallpaper
Fruit-inspired wallpaper can add an instant pop of colour to a neutral-toned room. Pineapple themed wallpaper adds a tangy style to suit everyone's tastes, and bright pastel colours work wonderfully with a neutral backdrop.
2. Linen
An excellent idea for the kids' bedrooms is fruity bed linen that will create a timeless look they won't grow out of in a hurry. A feminine approach would include strawberries and cherries, while a more masculine style can include bananas and oranges. Fruit prints are a fantastic way to compliment colour schemes.
3. Fruity Wall Prints
While most fruits are bright and bold, when the colours are toned down, they can be still as striking. Mature colours of the fruit rainbow, such as berry reds, apple greens and tangerines, can complement a space perfectly and even add a sense of sophistication. Try using lemon yellows for that adventurous and energetic burst of colour into a room.
If you want luxury home accessories, visit our store today.