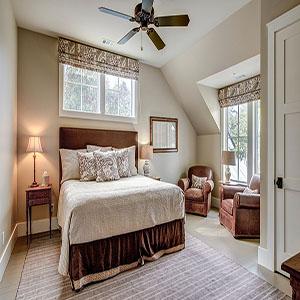 Lots of us are feeling the stresses and strains of the current climate right now, and pining for a luxury escapist getaway for a couple of days—at a time where it's not always practical or advisable to travel and stay in different places. So why not bring the hotel feel to you?
Bedrooms are often one of the easiest rooms to update—switching up your bedding, painting a wall, getting a couple of new accessories—and giving your room a refresher can not only give you a swish hotel feel, but the renewed space can help you sleep better, too. Here are a couple of tips on how to get that home hotel vibe…
Invest in luxurious bedding
That feeling where you sink into fresh bed sheets at a boutique hotel? Unbeatable. And one of the reasons is the high thread count linen, designed to make sheets breathable. Luxury linens are all part of your new hotel feel bedroom, so it's time to invest in something decadent.
Add a seating area
Nothing says luxury hotel suite like a cosy seating area, where you can relax with a book or a glass of wine in a snug dressing gown and slipper combo. Sure, you might not have space for a full sofa and coffee table, but a beautiful armchair can change your space.
Declutter!
You can't completely escape in your own home, but decluttering surfaces from unnecessary items and putting away electrical items (like phones and laptops) can help you properly unwind and get a good night's sleep.
If you're looking for decadent little details like luxury interior door knobs, we can help transform your home. Check out our range of homeware today.