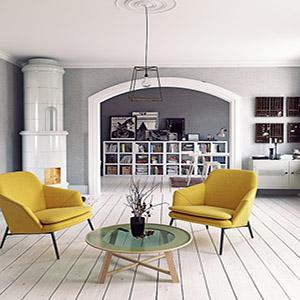 Sometimes it's all about the quick wins when it comes to interior decorating and there's often no quicker win than a fresh coat of paint, wouldn't you agree? But getting out the tins and paintbrushes doesn't mean you have to simply give each wall a fresh coat - you could think a little more outside the box than that if you're keen to get creative.
One big trend to have emerged in the last couple of weeks is the painted arch, a very beautiful and very achievable design feature that works in any room of the house, adding an architectural detail to even the plainest of spaces, without much hassle at all.
You could create added interest around your front door with a giant pink archway, for example, and jazz it up even further with some carefully curated works of art.
Or what about using the idea to help set out an area for working from home if you don't have a designated office you can use? This can really help you get in the right mindset for the day ahead, which can be quite tricky if you're used to leaving the house and commuting to work.
Over in the bedroom, meanwhile, you could easily create a beautiful headboard to frame your bed properly - a very cost effective way of decorating this part of the house and helping to make a huge impact without much trouble.
And in the hallway, you could paint an arch around your coat hooks to make what is usually a relatively functional part of the house into something really rather beautiful. The only limit is your imagination!
Check out our range of hammered copper drawer knobs if you're considering revamping your home decor at the moment.