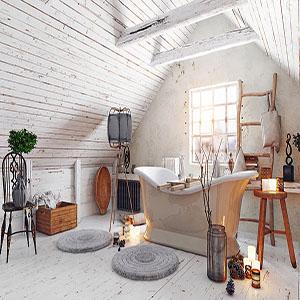 With many people spending the majority of 2020 in their homes, the new year, while still a couple of months away, will likely be bringing new decorating opportunities, and now is the time to begin planning what changes you want to make your home feel fabulous and function better for how you use it now.
Whether you plan to remodel your home by yourself or take on the services of an interior designer, nothing can refresh your home faster than incorporating a few of the upcoming trends. If you're ready to wave goodbye to 2020, then say hello to these three 2021 trends.
Industrial surfaces
Rustic and natural finishes for surfaces like bathroom shower walls and kitchen counters can ass a sense of early comfort.
A dark, worn cement look is a chic way to add a casual industrial vibe to a modern farmhouse kitchen, or it can be used to clad a fireplace wall for a touch of industrial chic in a modern apartment.
With colour trends warming up, look for warm copper and rust finishes, such as copper kitchen handles, as well as for taps and light fixtures, and wood accents like ceiling beams and natural wood interior doors. 2021 is about adding warm industrial touches to interior spaces.
Earthy neutrals
Goodbye cool greys, and hello deep, saturated earthy tones. US paint manufacturer Sherwin Williams have announced that their colour of the year for 2021 is Urbane Bronze, a dark, cool brown to replace the grey paint fabrics, paints and furnishings from the past decade. It also works brilliantly with the latest trend for dark blue for furnishings and accessories.
Material choices
The furniture upholstery choices for 2021 are leather and plush fabrics such as bouclé and velvet. It is reminiscent of the 1970s styles, using heavy velvet, leather, suede and tweed fabrics, and will be all the rage to add texture to upholstered furnishing.
Use it on furnishings like ottomans, headboards and foyer benches; places where the fabric will not be overly dominant.
If you're looking for luxury homeware in the UK for your home refurbishment project, visit our online store today.