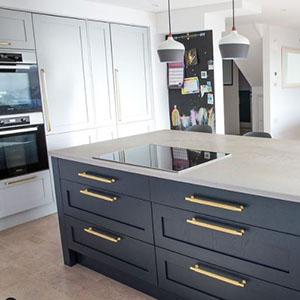 Deciding on the overall style of your kitchen can be daunting, as there are so many options out there to choose from. There can be a lot riding on making the right choice too, from ensuring that it is fit for purpose for a busy household to adding value to your property and making a return on your investment.
But before you find your kitchen remodelling contractor, we have some tips to help you narrow down the options available and find the right kitchen for you.
Picking out an overall style for your kitchen can be a daunting task as there are so many options out there to choose from. There can be a lot riding on it too, from adding value to your property to improving your day-to-day use of this all-important room.
1. The architecture of your house
Unless you have experience and a flair for interior design, it likely makes more sense to match the kitchen with the age and style of your home. For example, a period property may suit a shaker style kitchen, or even a rustic farmhouse style, while a renovated property might suit a more modern look.
2. The layout of your house
The layout of your house and kitchen will somewhat dictate your style. For instance, you have a small kitchen you wish to bring more light into, then pale and reflective schemes will help. For a larger, south-facing kitchen, then you may find a matt finish works better than glossy.
Space is a major factor to consider. A smaller kitchen will need more focus on storage to ensure there is minimal clutter and space to perform tasks in the kitchen. A frameless cabinet style with overlaying doors will help maximise the space you have. In frame cabinets are not as space-efficient.
3. What appliances you have/want
The appliances you want or have may also dictate your desired kitchen style, as they will need to blend in with your overall theme. However, you may want a statement piece, such as a large American fridge freezer, or a colourful AGA, or something more retro.
4. Your personal taste
While a certain aesthetic may suit your home, it might not be to your own tastes, so you should consider how you can add elements that will help make it your own.
Your kitchen must suit your and your lifestyle. If you are not keen on lots of cleaning, then avoid high maintenance materials or glassy finishes, and if you want to eliminate clutter, ensure there is ample closed cabinetry to hide away all your bits and pieces.
Choose a kitchen theme with colours that you enjoy or pick bright neutrals to uplift as a failsafe, adding pops of colour in accessories instead.
A mood board, a folder of images, photos torn out from magazines, or a Pinterest board of kitchen design will help you figure out your desired style. Sharing these with your kitchen installer and provider will help you pull together the key themes that you are drawn to.
If you're looking for contemporary kitchen handles for your new kitchen, visit our online store today.