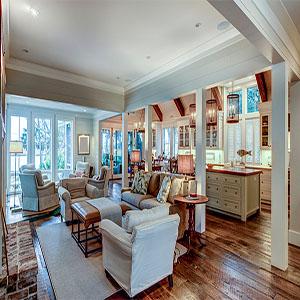 The key to any successful interior design scheme is to plan, plan and then plan some more, and this is true no matter what kind of style you intend to go for, whether that's shabby chic, a retro revival or something rather more luxurious.
Where luxury interiors are concerned, material choice is paramount and you need to make sure that you don't skimp in this regard, picking out the likes of top quality leather, velvet, real wood and metallics to help bring your home to life.
A well designed lighting scheme is also an absolute must, so if you're wondering where to divert the budget, this would be a good starting point. Think about how you use the different rooms of the house before you start to decorate, as this will inform the kind of lighting you choose to have in each space.
In the kitchen, for example, you'll need to combine up and down lighting, as well as task lighting so you can cook with ease and entertain guests if the dining area is attached to this part of the house.
And if it's possible, try to maximise the amount of space you have at home. A light and airy feel will always provide a sense of luxury and you'll appreciate your living spaces a lot more if they don't feel cramped or hemmed in.
In terms of colour choice, a neutral palette will immediately help elevate your home and deliver a stunning and luxurious feel. This doesn't mean you can't go bold, however - black can work wonders at home and it's been a top trend for kitchens for quite some time now, so don't be afraid to think outside the box a little.
Make sure you have a look at our ceramic internal door handles to help add that perfect finishing touch to your interior design schemes.