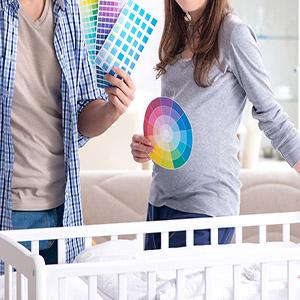 Although lockdown restrictions are gradually being lifted, it will be a long time until life goes back to normal - if it ever does - and if you're an expectant mum, this is likely to be quite a stressful time for you.
But if there's one thing that can really help relieve stress it's a bit of painting and decorating. Giving a room a new lease of life, even if that's just something simple like a coat of paint or even just switching up all the old and tired furniture handles for something more contemporary like walnut wood knobs, can make you feel like new, as well.
For mums and dads-to-be, there's nothing more special than doing up a nursery but it can be hard enough to pull a look together when you can easily pop to the shops, let alone during a pandemic.
If you're finding it hard to come up with ideas, creating a mood board can be really useful. You can either do this in real life, using pictures from magazines and so on, or using an app like Pinterest that allows you to collate all sorts of ideas so you can easily identify any emerging themes.
It's certainly worth taking your time over it all, as there are so many amazing options out there for nurseries and children's bedrooms - you could soon find yourself with an awfully over-crowded little room. Keep it as simple as you can at first… you can always add items in gradually as time goes on.
You may also want to consider going for more neutral colours, so that it's easy to redecorate and change the room as your child ages without you having to do lots of extra work.