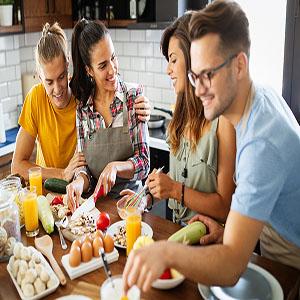 Your kitchen may be a place you have spent rather more time in the last year than you could ever have expected. Like any room in the house, your relationship with the place where food is prepared and eaten is likely to be far more intimate than in those halcyon days before the pandemic.
All that may have prompted plenty of thought about your kitchen, but for the most part that is likely to have been focused on the practical elements of a space you have been using more, rather than the aesthetic elements that cannot impress your guests when you're not allowed to have visitors.
After all, a new addition like brass cup handles may look great, but what if no guests are using the cups hanging from them?
However, all that is now set to change with the country potentially on the path to a complete exit from lockdown. The publication of the government's roadmap out of lockdown may have various caveats about infection rates, vaccinations and potential mutant strains of Covid, but the prospect of soon being able to welcome visitors looks real.
As early as May 17th, it may be possible to have two households or six people inside your home. Five weeks later, if all goes well, the remaining restrictions on social contract will be lifted, making it a great time for a summer party.
No matter how great the different rooms in your home look, every party somehow manages to find a group spending a large amount of time in the kitchen, usually because that's where much of the food and drink is.
Nonetheless, it can be heartwarming to get compliments about your kitchen from house guests and when it contains stand-out, stylish features, you will be glad you took the opportunity before the world started turning the right way up again to make some enhancements and ensure you offer renewed hospitality with style.