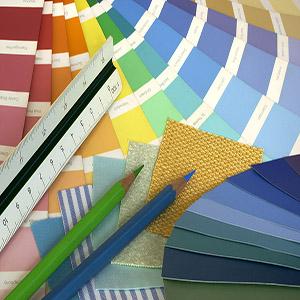 It's always a wise idea to keep up with the latest trends and ideas in interior design if you're planning a home makeover in the near future - and those of you thinking about redecorating your house over the next few months might want to make sure you steer clear of monochrome, as it's all about big, bold, bright colours at the moment.
Colourful design has been popular for a while, but it's become a serious focus for many so far in 2020, no doubt driven in large part by the pandemic and lockdown meaning that we've all been at home a lot more than usual, keen to create more optimistic, happy interiors.
But colour can be challenging for would-be interior designers who may not have lots of experience behind them and all too often, people end up with something on the more neutral side because they aren't sure where to begin with introducing brighter shades.
Following those with this experience on social media sites can prove very useful indeed for gathering ideas and finding inspiration… and luckily, the Times has just rounded up some of those on sites like Instagram, as well as those with their own websites, which could prove just the inspiration you've been looking for.
Jess Kavanagh and partner Rick Sowerby, for example, recently set up a site to chart their home improvement projects - with ideas taken from Ms Kavanagh's wardrobe of outfits and decorating in a pastel palette, as a result.
You could even go on an online psychology course in colour, run by interiors expert Sophie Robinson, who says: "I think the upswell in people embracing colour proves how colour can lift the spirits and bring joy and positivity."
Have a good read through the news source's article to see if there are any ideas you could take home for yourself. Which room will you start with?
If you want luxury home accessories, visit our store today.