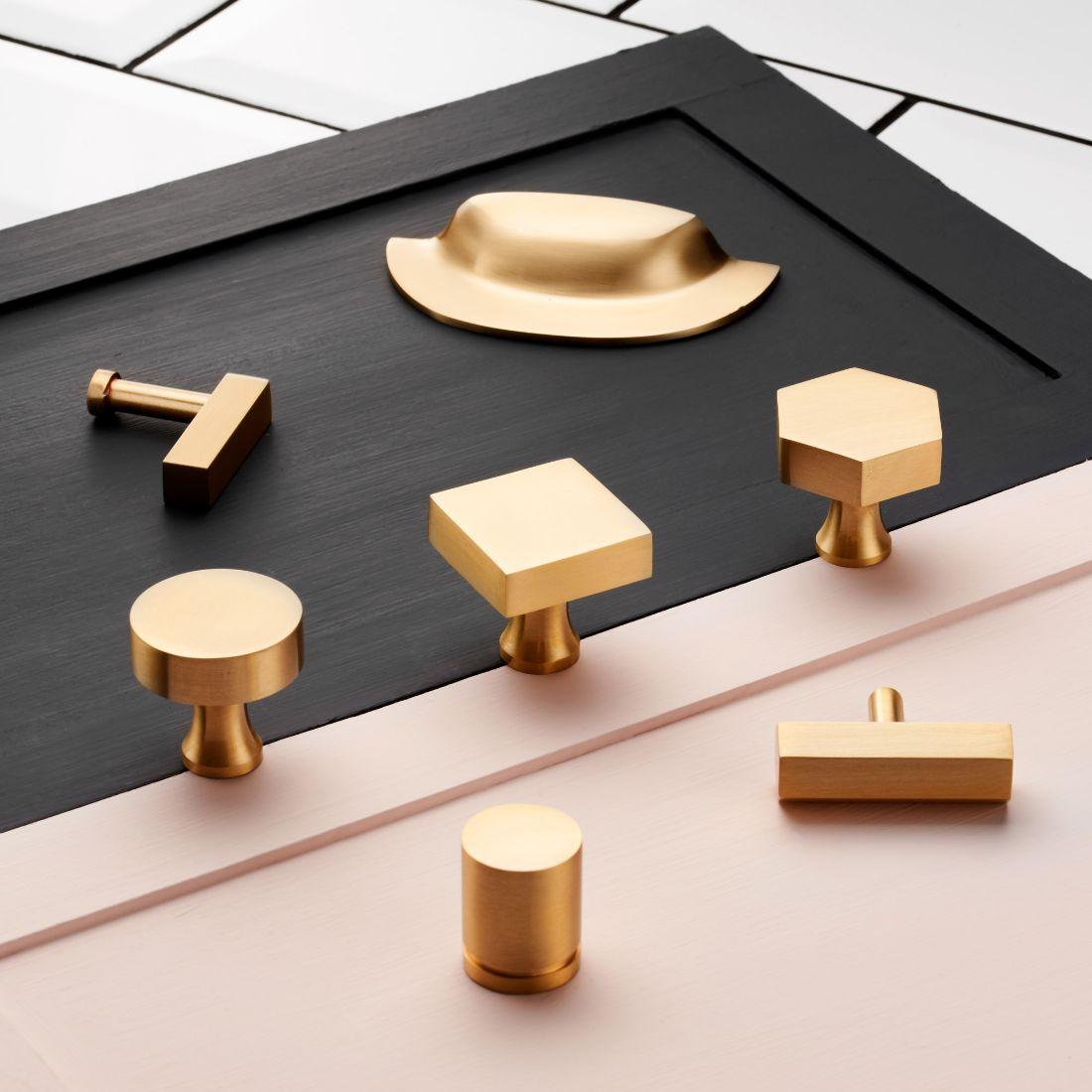 Gold home décor accessories are the perfect way to add some luxury to any room and are a fantastic way to add timeless style that is guaranteed to add a wow factor.  Whether you go big with an opulent golden room interior theme or more understated with a couple of gold home décor items scattered about, either option will be sure to add a lavish look.
You can inject some opulence to your kitchen with our various gold kitchen accessories.  Our gold kitchen handles and gold cabinet knobs are available in assorted shapes.  Their geometric inspired shapes will suit modern contemporary or more traditional vintage rooms, or we also have a unique modern brass drawer cup pull which suits drawers. Our brand-new Art Deco inspired Half Moon door knobs are a wonderful way to insert a gilded look to any kitchen cabinet or wardrobe door.  Our gold coasters available in various geometric shapes and in a gold hammered style are sure to dress up any kitchen table whilst protecting a surface.  Our gold candlestick holders will be sure to decorate any table with an effortless appeal. For any kitchen blinds our gold blind pulls are sure to add a rich feel to any room.  Additionally, our new gold mule mugs are perfect as a cocktail mug or beer mug to hold your favourite cold drink or your favourite tipple and will complement any kitchen well.
For a gilded look to any living room, home office or library study room you can pair our gold curtain holdbacks to hold back your curtains in style and can use our gold planter pots to hold your favourite house plant.  If you have furniture and blinds you can mix and match with our brass cupboard knobs and our gold hammered blind pulls.
Our gold bathroom light pulls are sure to add glamour to any bathroom and for any hallway our brass plant pot, our gold candlestick holder or gold hooks are a quick way to insert sophistication.
Don't miss out on our popular gold home décor for any gold themed kitchen, gold living room décor, or gold bathroom.  Just click on the images or link below to view some of these.
https://www.pushkahome.com/home-hardware/bar-handles.html
[caption id="attachment_488" align="alignleft" width="300"]
Brass door knobs[/caption] [caption id="attachment_488" align="alignleft" width="300"]
Brushed Brass Gold Cylindrical Light Pull[/caption] [caption id="attachment_481" align="alignleft" width="300"]
Brushed Brass Gold Rectangle Drop Pull[/caption] [caption id="attachment_600" align="alignleft" width="300"]
Modern Brass Gold Drawer Cup Handle[/caption] [caption id="attachment_603" align="alignleft" width="300"]
Striped Brass Half Moon Door Handles[/caption] [caption id="attachment_613" align="alignleft" width="300"]
Contemporary Gold Indoor Planter Pots[/caption] [caption id="attachment_612" align="alignleft" width="300"]
Brass Cylinder Cupboard Drawer Pulls[/caption] [caption id="attachment_602" align="alignleft" width="300"]
Brass Hexagonal T Bar Cupboard Pull Handles[/caption] [caption id="attachment_604" align="alignleft" width="300"]
Brushed Brass Gold Plated Wall Coat Hooks[/caption] [caption id="attachment_611" align="alignleft" width="300"]
Solid Brass Gold Curtain Tie Backs[/caption] [caption id="attachment_607" align="alignleft" width="300"]
Diamond Brass Half Moon Door Handles[/caption] [caption id="attachment_608" align="alignleft" width="300"]
Brushed Brass Gold Hexagonal Light Pull[/caption] [caption id="attachment_609" align="alignleft" width="300"]
Solid Brushed Brass Gold Round Coasters[/caption] [caption id="attachment_485" align="alignleft" width="300"]
Brass Round Gold Cupboard Door Knobs[/caption] [caption id="attachment_614" align="alignleft" width="300"]
Gold Hammered Metallic Drinks Coasters[/caption] [caption id="attachment_615" align="alignleft" width="300"]
Brass Hexagonal Gold Cupboard Door Knobs[/caption] [caption id="attachment_616" align="alignleft" width="300"]
Metallic Hammered Gold Blind Pull[/caption] [caption id="attachment_617" align="alignleft" width="300"]
Gold Hammered Wall Coat Hooks[/caption] [caption id="attachment_618" align="alignleft" width="300"]
Brass Coat Hooks with Solid Oak Rack Panel[/caption] [caption id="attachment_619" align="alignleft" width="300"]
Gold Moscow Mule Mugs[/caption]