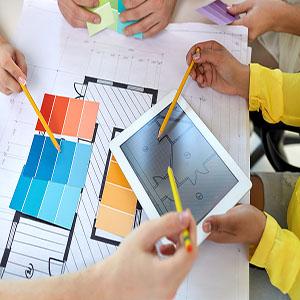 Designing a beautiful, luxurious master bedroom is about managing comfort, function and form to create a room that is not only aesthetically pleasing but also the perfect environment to sleep soundly.
Most adults need between seven and nine hours of sleep every day to be at their most effective, and certain design errors can not only affect the look of your room but also ruin your sleep.
Here are some of the biggest mistakes made when designing bedrooms, and how you can use luxury homeware and simple design adjustments to fix them.
Your Room Is Too Bright
Colour has a major effect in shaping the feel of a room and the emotions of everyone in it by stimulating the mind in certain ways, which can lead to more troubled sleep in a bedroom.
This can be solved by choosing a colour scheme that helps to relax the mind, such as neutral off-whites and beiges, dark tones such as navy, leafy green, as well as pastels can create a relaxing atmosphere.
As well as this make sure your curtains are thick enough to block light coming into the room and consider swapping out the bulbs in your bedroom lamp for ones with a warmer light tone.
Too Much Clutter
A cluttered room is a room that often inadvertently stimulates the mind, providing a sense of unfinished business for the day.
Buying a storage basket or ottoman to quickly store cluttered objects away to organise the next day is ideal here.
An Uncomfortable Or Out Of Place Bed
Your bed is the most important part of your bedroom, both practically and aesthetically, so make sure you invest in a high-quality bed frame and mattress that appropriately supports you.
As well as this, try to place your bed in a position so that it is only partially visible from your door, so you can see who is coming or going without them seeing you.