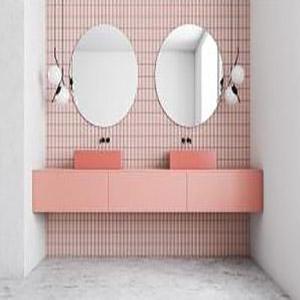 If the sight of your bathroom makes you blush, maybe it's time to rethink your colour scheme and give it some punch, and one colour that's destined to have you feeling peachy is pink!
The age of the clinical white bathroom is over, for now, and with such gorgeous patterned, colourful tiles made from porcelain or concrete, there's no excuse for the plain white subway tiles.
The wonderful array of pink tiles on the market allows incorporating two trends at the same time with chevron-shaped tiles in gorgeous shades of pink. Rather than tile an entire wall or floor, if you're just after a splash of pink or a nod to the trend, think about a tiled splashback next to basin or bath – or in a shower room.
Deciding on a pink bathroom doesn't necessarily mean having to plan a complete renovation. It's relatively simple to achieve while utilising your existing bathroom furniture. White bathroom furniture looks great against the blush background, and additions like brass and gold knobs and handles work effortlessly.
The easiest way to introduce a pink theme into the bathroom is with paint, and the paint manufacturers are already ahead of the game with their pink palettes, ranging from pale calamine to earthy red pigments.
Tadelakt, the pink-hued Moroccan polished plaster, is another way to introduce a luscious earthy pink into your bathroom or shower area. To make sure it is waterproof, this needs to be a job for a professional.
The fittings and fixtures are the finishing touches to any room, adding a touch of class and decadence, so visit our site today for brass bar handles to compliment your peachy new bathroom.