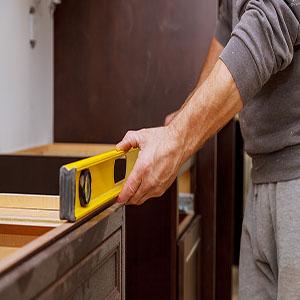 If you're planning to revamp your kitchen in the near future, there are some design mistakes that you might want to be aware of so you can steer clear of them.
Writing for Forbes recently, Amanda Lauren got some advice from a number of top interior designers to help ensure your kitchen looks great and is functional after your redesign. One of the top tips from Aurore Martial, interior designer and founder of Domus Venus, is to integrate as much as possible.
That includes opting for a boiling water tap instead of a kettle, and having integrated appliances like an integrated microwave and coffee machine, to help reduce clutter.
Another issue with many renovations is a lack of preparation, Christopher Peacock, founder and CEO of his self-named cabinetry brand, explained. He said that failing to do proper planning and research can often result in kitchens being "designed in the moment", an issue that causes delays and costs money, he added.
Thinking carefully about every element of your kitchen design is also highly advisable. Ms Martial noted that one mistake people make is mixing metals in the wrong way. Although mixed metals have become a big trend, she explained it's easy to slip up with the implementation.
For example, if you want to have copper or brass bar handles, make sure you also think about the metal you use for your other fixtures like taps. Her advice is to completely avoid chrome in this instance to make sure that the design ties together.
When you start looking at redesigning your kitchen, you might find that there are more kitchen cabinet styles available than you first imagined. Real Simple explained that, if you're going for a modern aesthetic then slab cabinet doors are a great choice, while beadboard cabinets are a good option if you're aiming for a cottage or farmhouse look.