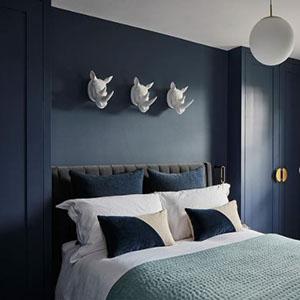 After 2020, it's totally understandable if you're keen to introduce more luxury to your interiors. After all, we've all spent a lot more time in our homes than ever before in the past nine months.
If you want to take your interior to a truly luxe level, what trends should you be watching and incorporating into your own home? Katharine Pooley, interior designer to the world's elite, shared her top trends with Prestige Online recently.
One of her top tips is to include some large-scale contemporary art in your decor, because this is a way to "add visual interest and colour in a joyful way".
Another top tip is to look at where you could introduce chandeliers into your decor. These don't have to be like the chandeliers of old though, with Ms Pooley recommending that a modern take is the way to go. Her advice is to look for one that's "abstract or sculptural in shape".
Don't forget about the bathroom either. Ms Pooley noted that many of her clients have been looking for ways to recreate the atmosphere and experience of a spa in their own homes.
Book-matched slab marble is one of the trends she highlighted in this part of the home. It's important not to underestimate what small design touches, like luxury interior door knobs, can bring to the aesthetic too.
Living etc recently picked out some of its top interior design trends for the coming year too, noting that one element that many of us are becoming more conscious of is sustainability. There's a growing focus, therefore, on buying once and buying well.
That means it's worth spending a little more money to get high-quality pieces for your home that you can enjoy for years to come.