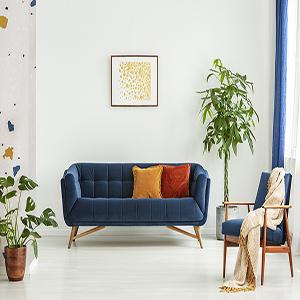 Mid-century modern design is sleek and timeless, so it's no wonder that it's a consistently popular choice for homeowners the world over… but unless you're an experienced interior designer, it can be difficult to get the look just right, so make sure you do sufficient research into the style before you spend any money to help ensure you're left with living spaces you know you're going to love for years to come.
Do some research into the history of the design movement to help you get a greater understanding of its principles and which designers to turn to for ideas.
The movement itself covers the 1930s right through to the mid-1960s, so you have a good few decades to discover, with big names in the design world like Charles and Ray Eames, Arne Jacobson and Harry Bertoia to discover.
The look is mainly characterised by simple forms with organic influences and incredibly fine craftsmanship. Function is key where mid-century modern design is concerned but you don't have to worry that you'll compromise on style when investing in key pieces.
It's a very minimalist aesthetic so ideal for anyone keen to pare their living spaces back and you can easily achieve a mid-century look and feel by finding the perfect armchair or cocktail table, or even a stunning floor lamp to help bring the room alive. 
What's great about mid-century modern design is that it works incredibly well with other more contemporary pieces, so don't be afraid of mixing and matching your home furnishings. You may well be surprised at how your living spaces come together in the end.
Looking for brass bar handles? See what we have in stock here at Pushka Home.