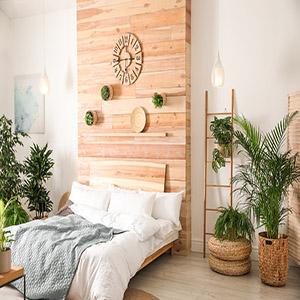 Over the last ten years, there has been a surge in popularity of open-plan living, with homeowners knocking through walls with gusto to create large kitchen-diners and sizeable lounges the whole family can congregate in.
However, while there are still lots of great reasons to adopt open-plan layouts in your house – from being able to spend more time with your kids to entertaining guests while cooking in the kitchen – the next decade could see us return to more modular spaces.
According to House Beautiful, living rooms will become smaller again, as households want to create distinct areas of their home.
"In 2020 and beyond, people will likely embrace segmented rooms and create a space that feels engaging for one purpose and separate from the rest of the home," design expert Kate Butler told the publication.
She went on to say: "More modular and small space opportunities are rising, with biophilic and eco-friendly approach to interior design."
For those who don't know, biophilia is about focusing on our attraction to nature, meaning households will be adding more greenery to their homes to bring aspects of the outside world indoors.
Some people might like to include more plants in their living spaces, kitchens, bathrooms and bedrooms, such as a large house plant in the lounge or small cacti in cloakrooms.
The alternative to this is choosing a bold wallpaper with a botanical print on it or neutral earthy tones for your walls.
Whether you choose to close up your living spaces or keep them open-plan, you might want to adopt the biophilia trend and upgrade your kitchen cupboards with oak wood door knobs.